Our greatest desire is to create a place where your children develop their relationship with God and grow to become passionate for the call He has on their life! We believe that there is no age too young to experience the love of Christ and it is our goal to open the door to Christ in your child's life.
Safety & Security
Your child's safety is our first priority!
All kidLife volunteers pass a background check and we also have a security team in place to ensure your child's safety during services. We have an electronic check-in system and only parents/guardians listed on the enrollment forms are allowed to pick up your child. We also have a number paging system for the nursery, so you can be notified if your infant needs you during service.
Class Times
We offer kidsLife classes during our 9am and 11am services for the following age/grade groups: 3-5 years, K-1st, 2nd-3rd, and 4th-5th grade. We have a Toddler and Infant Room for our infants and toddlers up to age 2.
Curriculum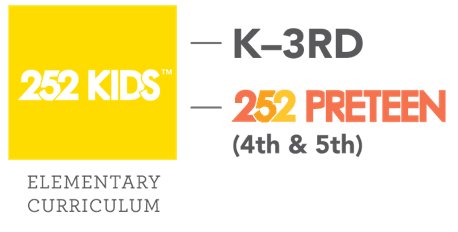 Here at kidsLife, we use the Orange Curriculum, specifically 252 Kids, a children's ministry curriculum that weaves music, communicator scripts, small group discussions, video presentations, and creative activities together to reinforce one clear and simple bottom line each week so kids can walk away and remember what matters most. It engages kids, partners with parents, and equips our volunteers. We want our kids to grow up making wiser decisions, building stronger relationships, and developing a deeper faith in Jesus. We want them to be excited to come to kidsLife every Sunday!
Pre-register your children for kidsLife!